In this article we will explain the common concept of pro scrims, custom matchmaking (private matches), what it is and how to join pro scrims yourself.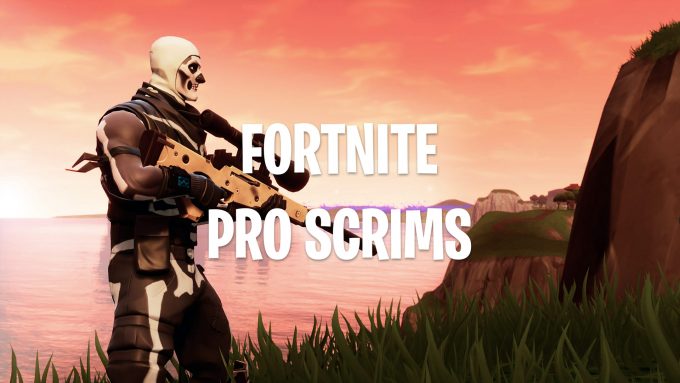 Pro scrims is a way for professional and competitive Fortnite players and players in general to practice and improve their skills and teamplay. Scrims can be conducted in all game modes including solo, duo and squad mode.
In Fortnite there are currently no matchmaking system, so in order for professional players to practice against other competitive players and improve their gameplay, they have to join scrims.
Usually players will gather in the same discord server and coordinate from here. Most of the time scrims are open for everyone, but usually they require a minimum K/D rate (kill/death ratio). This is in order to prevent newbies to join just to play with pro players.
There are several ways they can join the same game. As of the current state of Fortnite, the most popular way of doing scrims is the same way as stream sniping is done. The players will go into the same discord channel and someone will count down and they will all search for a game at the same time. This does not guarantee that everyone will be in the same server, but most of the time a big part of them will (imagine being a poor newbie in the middle of a pro squad game). The second method is through obtaining a custom matchmaking key which we will explain below.
How to get a custom matchmaking key
The second method, which will probably be the only method in the future, is by doing custom matchmaking (private matches). EPIC Games recently has begun given out custom matchmaking keys to the most popular discord servers and scrim servers. There are currently no way for normal players to acquire these matchmaking keys, as EPIC want's people to use the standard system. They do however see the need for custom matchmaking for pro players practicing and tournaments, and that is why custom matchmaking is in the game.
How to join pro scrims
If you want to join and practice Fortnite with other competitive players and professionals, then you should first take a look at your K/D ratio as this usually determines if you are able to join. Most servers require a minimum K/D of 2 (and most of the players have way higher). The easiest way to join is by joining a discord server that hosts scrims. There are several discord servers for scrims and for different languages, but we do not have a complete list at the moment. Usually you can find them in Forums and in Twitch streams. You are welcome to leave a comment if you know a discord community or somewhere else where people can sign up for scrims.
We hope this article helped clarify some of the questions regarding scrims, if you have any comments or questions, feel free to leave a comment.