XSOO Fortnite Mouse Settings & Sensitivity
DPI / CPI Mouse DPI = Dots Per Inch | CPI = Counts Per Inch
800
eDPI Effective DPI | eDPI = DPI x Game sens.
72
Polling rate Mouse polling rate in Hz. If the mouse polling rate is 500, the mouse position will be updated every 2 milliseconds
500 Hz
Mouse Settings Gallery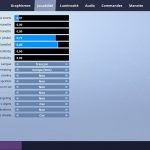 XSOO Fortnite Video & Graphics Settings
Millenium: Teammates in Fortnite
FAQ
XSOO's real name is Nicolas Argay.
XSOO is using the ASUS VG248QE with a refresh rate of 144 Hz and 1920x1080 resolution.
XSOO uses the ZOWIE FK2 with a DPI of 800 and in-game sensitivity 0.09.