Tfault scrims (sometimes called Peenc scrims) are on the rise. More and more professional esports athletes, pro players and famous Twitch streamers from North America are practicing scrims in the Tfault Scrims Discord server, hosted by professional Fortnite player, Tfue, aka. Not Tfue from FaZe clan.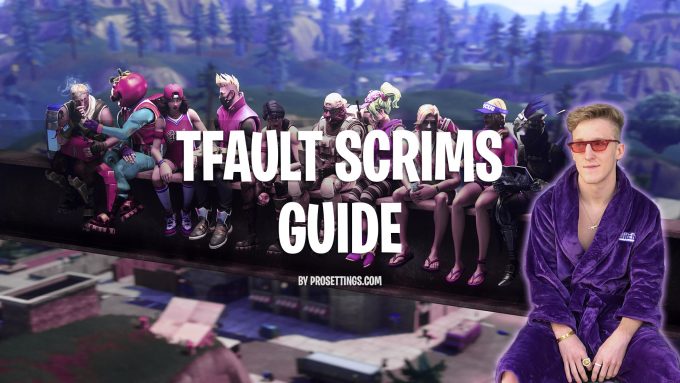 So what are Tfault Scrims? Basically, Tfault Scrims is the name of the scrims hosted in Tfue's Fortnite scrim Discord server and is the same as normal scrims and pro scrims. The difference is that a specific set of rules are in place and that you can only join in a specific way.
Who can join Tfault scrims?
Tfault scrims are for PC players in North America, more specifically NA East and NA West. They do not host scrims for Europe or console players, at least for now.
In theory, everyone can join Tfault scrims. You can either get into the Discord server by getting a personal invite or by subscribing to a set of streamers.
By subscribing to a streamer, and having your Twitch account linked to your Discord account, you will get access to the scrim Discord.
These are some of the streamers you can subscribe to and gain access to the Discord:
There might be other streamers where subscribing will give you access to the Discord server. This is just the ones that we know for sure.
How to join Tfault scrims?
There are two ways that you can join the Tfault scrim Discord:
Get a personal invite from Tfue or one from the management
Subscribing to one of the streamers mentioned previously
The way most people get in is by subscribing to Tfue or some of the other streamers mentioned earlier in this guide.
You need a Twitch account and a Discord account in order to participate, and you need to link the two accounts together.
You link your Twitch account to your Discord account by logging into Discord, then go to settings and "Connections". From here you can click on the Twitch icon and link the two accounts.
After linking your account and subscribing to one of the applicable Twitch streamers, you will have to go into Discord settings again the same place where you connected your accounts. Please note, it may take some hours after subscribing before the Discord shows up in the "Connection" settings.
Example: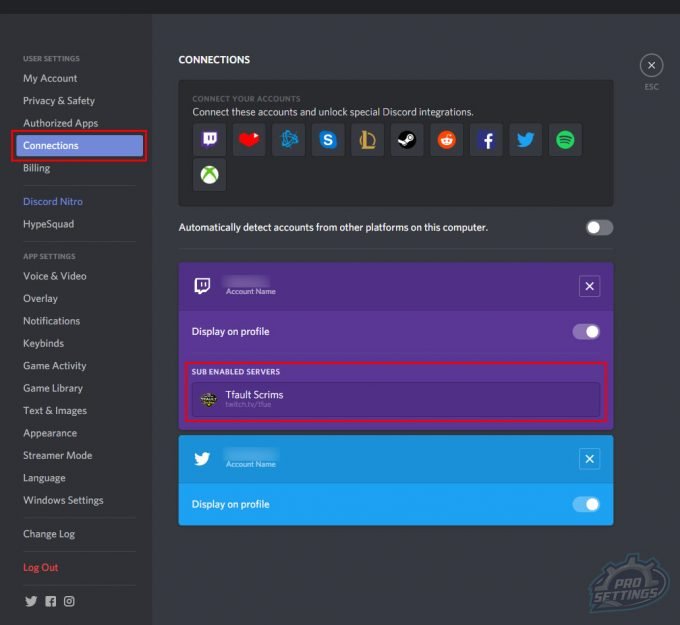 To sum it up – step by step
Create a Twitch account and a Discord account
Go to Discord -> Settings -> Connections and link your Discord account with your Twitch account
Subscribe to Tfue or one of the other streamers from the list on Twitch
Wait … Can take up to two hours…
Go to Discord -> Settings -> Connections and click "Join" next to Tfault Scrims under "Sub Enabled Servers"
You are now in the Tfault scrim Discord and can get started. To completely get started, you also need to read the rules and get verified in the server.
What are the scrim rules in Tfault scrims?
It is important you follow the rules in the Discord server and when participating in Tfault scrims, otherwise you will get banned from the server.
The rules are:
You must wear a default skin. This is so players know who is a scrim player and who is not.
Storm pushing is not allowed and also it is not allowed to take stupid fights. Storm pushing and stupid fights are fights where both players/teams are likely to get killed. This is for example if you are far away from the zone, and the storm is about to get moving.
If you have TTV/YT/Twitch/YouTube in your in-game name, you need to have streamer mode enabled.
Stream sniping is NOT allowed.
If you play duo or squad scrims, your teammates must also be in the Discord and be verified.
If your teammates are banned for breaking the rules, you must find a new teammate.
3rd Zone Rule
The 3rd zone rule is a new rule that is something required to follow in the scrims. It means that you are not allowed to shoot or fight until the storm fully touches the boundaries of the third zone (meaning when the fourth circle is shown on the map). This is to make scrims more realistic to a professional tournament experience, where players rarely engage in any fights until very late game.
If you see another team before the 4th zone, you just ignore them and move on.
FAQ
What are scrims?
Scrims and pro scrims are short for a scrimmage, which is a practice match between players. In Fortnite, scrims are used to practice against competitive players and practicing for tournaments.
What are solo scrims, duo scrims, and squad scrims?
The same as scrims, but done in either solo, duo or squad mode in Fortnite.
Alternative scrim Discord servers
If you are not a PC player, is located outside of North America or just don't want to subscribe or have the money to subscribe, there are some free alternatives to Tfault scrims.
Below we have listed some of the larger scrim Discords, including our own.
Please make sure to read and follow the rules in the Disocrd servers. We hope this guide has helped you.