Wisethug Fortnite Mouse Settings & Sensitivity
DPI / CPI Mouse DPI = Dots Per Inch | CPI = Counts Per Inch
800
eDPI Effective DPI | eDPI = DPI x Game sens.
32
Polling rate Mouse polling rate in Hz. If the mouse polling rate is 500, the mouse position will be updated every 2 milliseconds
1000 Hz
Mouse Settings Gallery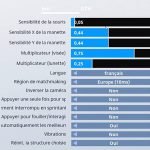 Wisethug Fortnite Video & Graphics Settings
Refresh rate Monitor refresh rate in Hz
144 Hz
Videos Featuring Wisethug
FAQ
Wisethug's birthday is on July 1.
Wisethug is 33 years old.
Wisethug uses the Logitech G403 with a DPI of 800 and in-game sensitivity 0.04.