DSPStanky Overwatch Mouse Settings & Sensitivity
DPI / CPI Mouse DPI = Dots Per Inch | CPI = Counts Per Inch
1800
eDPI Effective DPI | eDPI = DPI x Game sens.
18000
Inches/360° Inches you have to move the mouse to make a 360 degree turn
3.03″
Cm/360° Centimeters you have to move the mouse to make a 360 degree turn
7.7 cm
Polling rate Mouse polling rate in Hz. If the mouse polling rate is 500, the mouse position will be updated every 2 milliseconds
1000 Hz
Mouse Settings Gallery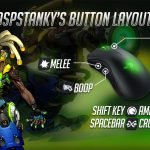 DSPStanky Overwatch Video & Graphics Settings
Refresh rate Monitor refresh rate in Hz
144 Hz
Other Overwatch Pro Settings
Videos Featuring DSPStanky
More info about DSPStanky
DSPStanky Keybinds
Jump: Right Mouse Button
Crossfade: Spacebar
Amp: Shift
Secondary Fire: Top Thumb Mouse Button
Melee: Bottom Thumb Mouse Button
Console Bindings (Xbox One)
Jump: Left Trigger
Boop: Left Bumper
Crossfade: A Button
Binds
Jump: LT (L2)
Crossfade : A (X)
Amp : RB (R1)
Boop : LB (L1)
Melee : RS (R3)
Ult : Y (Triangle)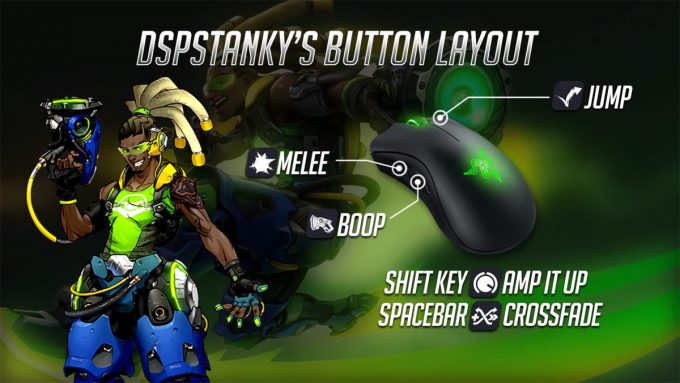 DSPStanky Mouse Sensitivity
Please note, that this is his Lucio sensitivity.
In-game Overwatch sens: 10
DPI: 1800
Console Sensitivity
Horizontal: 65
Vertical: 50
Aim Assist Strenght: 45
Why do DSPStanky swap between healing and speed (crossfade) all the time?
There's a lot of situations where it helps. You can more precisely control your wall jumps by switching to heals before jumping off a wall since it's slows you down. You can also make yourself harder to hit by switching back and forth at the right times to make it harder for people to get used to your rhythm. It also allows you to squeeze out every last drop of healing while still maintaining your speed.
DSPStanky Quit Overwatch
DSPStanky officially left Overwatch on August 9th, 2017.
FAQ
DSPStanky's birthday is on October 29.
DSPStanky is 31 years old.
DSPStanky is from United States of America.
DSPStanky is using the ASUS PG258Q with a refresh rate of 144 Hz and 1920x1080 resolution.