Shroud PUBG Mouse Settings & Sensitivity
DPI / CPI Mouse DPI = Dots Per Inch | CPI = Counts Per Inch
400
eDPI Effective DPI | eDPI = DPI x Game sens.
22400
Polling rate Mouse polling rate in Hz. If the mouse polling rate is 500, the mouse position will be updated every 2 milliseconds
1000 Hz
Mouse Settings Gallery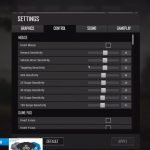 Shroud PUBG Video & Graphics Settings
Refresh rate Monitor refresh rate in Hz
240 Hz
Video & Graphics Settings Gallery
Other PLAYERUNKNOWN'S BATTLEGROUNDS Streamers
More info about Shroud
Shroud is a full-time streamer, streaming PUBG and Fortnite Battle Royale.
Shroud Monitor Settings
Brightness: 100
Contrast: 50
Sharpness: 7
Black eQualizer: 10
Reset Color: No
AMA: Premium
Instant Mode: On
Shroud OBS Settings for Streaming
Quality: 10
Bitrate: 8000
Use CBR: Check
Audio
Codec: AAC
Bitrate 128
Format: 48Khz Stereo
Downscale: 1920×1080
FPS: 60
CPU Preset: Medium
FAQ
Shroud's real name is Michael Grzesiek.
Shroud's birthday is on June 2.
Shroud is using the BenQ XL2540 with a refresh rate of 240 Hz and 1920x1080 resolution.
Shroud uses the Logitech G303 with a DPI of 400 and in-game sensitivity 56.
Other PLAYERUNKNOWN'S BATTLEGROUNDS Players