SteelSeries Apex Pro TKL Mechanical Keyboard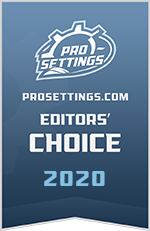 The Apex Pro is the flagship gaming keyboard from SteelSeries known to be "the world's fastest mechanical keyboard". What sets this keyboard apart is the OmniPoint switches with a stunning 0.7ms response time and adjustable actuation. This is around 8 times faster than traditional mechanical keyboard switches, like the popular MX Cherry Red switches.
This keyboard is really about performance, it is not the perfect keyboard, but it is the best keyboard for competitive gamers!
Due to the performance and build quality, the Apex Pro TKL has received the ProSettings Editors' Choice award as well as our Top Picks award!
Check Price on Amazon
Specifications
Tech Specs

Keyboard Type: Mechanical
Report Rate: 1000 Hz (1ms)
N-Key Roll Over: All (104-key)
Anti-Ghosting: Yes, 100%

Switches

Switch Type: OmniPoint Adjustable Mechanical Switch (Analog Hall Effect Magnetic Sensor) and Gateron Red.
Actuation Point: 0.4mm to 3.6mm
Response Time: 0.7ms
Durability: 100 million key presses

Design and features

Weight: 1.7 lbs
Width: 139.26 mm
Height: 40.44 mm
Depth: 355.44 mm
Top Material: Aircraft Grade Aluminum Alloy Frame
Connection: Wired
Keycap Material: ABS plastic (Acrylonitrile Butadiene Styrene)
Backlighting/RGB Illumination: Individually controllable per-key RGB, including whole-keyboard patterns, and reactive typing effects
OS Compatibility: Windows, Mac OS X, PS4, Xbox One
Software: SteelSeries Engine 3
Introduction and Unboxing
The Apex Pro is the flagship model of mechanical keyboards from SteelSeries. It comes in two different versions, a full-size and TKL (tenkeyless) version. Tenkeyless means that the Numpad is left out, leaving more space on your desk for your mouse or other things. We tested the TKL version. The keyboard comes in a compact package with the well-known yellow and orange colors. Inside the box, you will find the keyboard, a magnetic wrist rest, and the manual. The box is clearly marketed for gamers with emphasis on the switches.
Many professional players use the Apex Pro keyboard, one of the more notable being Mongraal, a professional Fortnite player.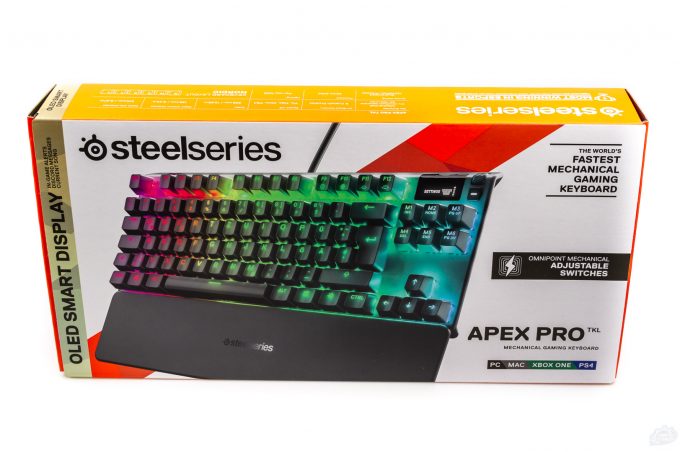 Design
The top material of the keyboard is made of series 5000 Aircraft-grade aluminum. This means that the frame is very sturdy, but the keyboard still feels fairly light and weighs in around 1 kg. There are pros and cons of heave keyboards, but this one is around the middle; not super heavy and not super light.
The keyboard has a small OLED display in the top right corner. This can be used as a menu for adjusting several things, for example, the actuation point of the switches along with other settings. Besides this, you can customize the OLED screen with your own images or gifs.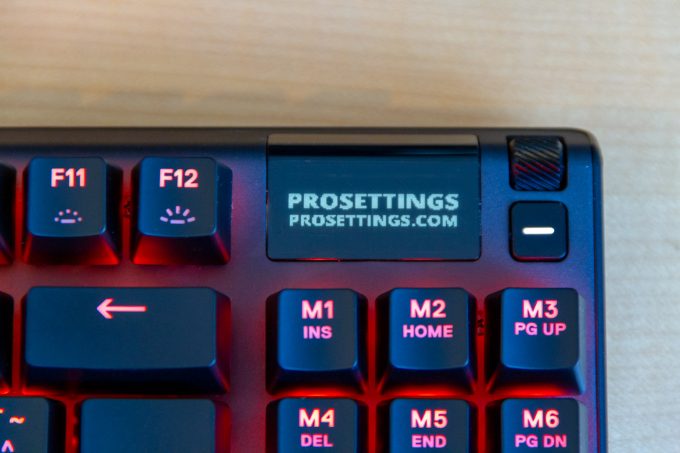 It is a cool gimmick, but won't help you get more eliminations in-game. The OLED is easy to use and the image easy to change via the SteelSeries Engine software.
RGB Lighting and Illumination
Due to the design of the switch where the LED diodes are placed on top, the LED lighting is easily coming through the keycaps. Furthermore, the keycaps are made of ABS plastic, which makes for a clear and readable font with easy passthrough of the RGB light. The color spectrum of the LED diodes are also really good, and it is clear that SteelSeries believes that RGB lighting is an important aspect of the experience.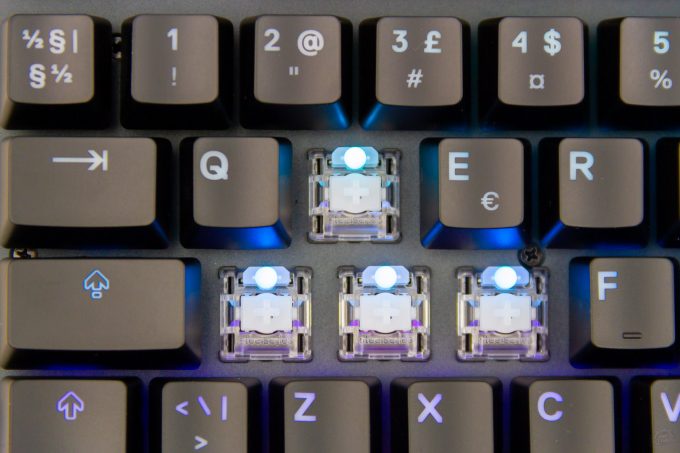 You can completely customize each key with its own color using the software. Overall, the RGB lighting is super impressive and can be used to create a stunning setup.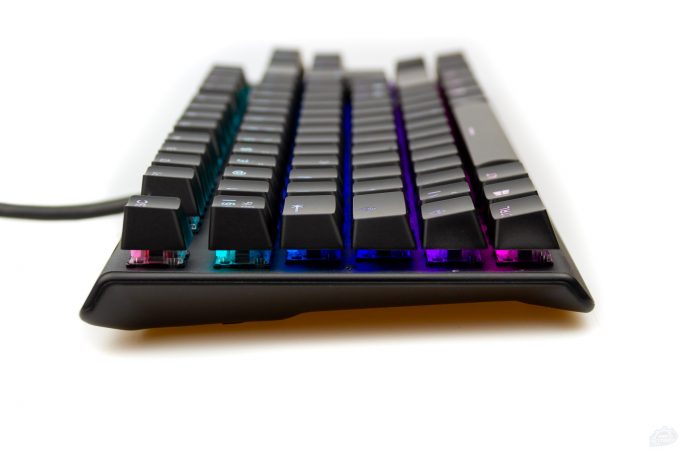 Another noteworthy feature is the USB passthrough, which gives you a functioning USB port right in the keyboard. This is very useful, with the only downside being that it will still take up two USB slots on your PC, with a cable that splits into two. Speaking of the cable, it feels super robust, but a major downside is that the cable is NOT detachable. Having multiple keyboards for different purposes (one for gaming, one for typing), having detachable cables just make everything easier.
Keycaps
SteelSeries has chosen to go with ABS keycaps. If you want to learn more about keycaps, check out our mechanical keyboard keycaps guide. Usually, mechanical keyboards come with ABS or PBT keycaps. ABS keycaps are good for RGB lightning, shinier but also less durable than PBT keycaps. While durability is not really an issue, we believe that PBT keycaps are superior for gaming. They might not be as good for RGB lighting, but have a more texturized surface and does not get greasy like ABS keycaps. The good thing is that you can easily change the keycaps. The OmniPoint switches feature the same keycap stem as MX Cherry switches and thus will be compatible with most keycap sets.
Layout
As mentioned earlier, the Apex Pro comes in two different, a full-size and tenkeyless (TKL) version. For gamers, small keyboards are usually preferred, as large keyboards quickly start to get in the way of your mouse. This is why we prefer 60% or 65% layouts for gaming. While TKL is still a big advantage over full-size (for gaming purposes), we hope that SteelSeries would consider smaller layouts in the future.
SteelSeries Engine Software
The SteelSeries Engine 3 software lets you customize all aspects of your keyboard. It works well with all SteelSeries software and lets you synchronize all your SteelSeries gear.
Via the software, you can adjust the actuation point of all the OmniPoint keys (62 in total, they are marked in the below picture). You can also control the RGB lighting of each key, change key bindings, meta bindings, change the OLED image, and use the powerful macro editor.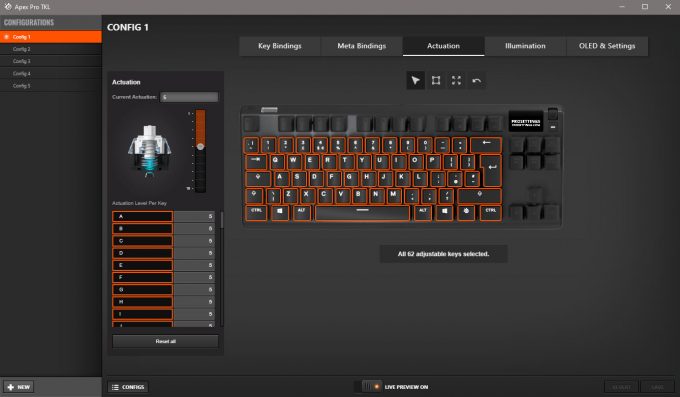 The keyboard can store up to 5 different customized profiles and is compatible with PC (Windows), Mac OS X, Xbox One, and PlayStation 4.
Our wishlist for the design
With the OmniPoint switches, SteelSeries Apex Pro could be the near-perfect keyboard with few adjustments to the design perspective. We are unsure whether these design choices were made due to saving money in production or something else. However, here is our wishlist to make the Apex Pro even more impressive:
Replace ABS keycaps with double-shot PBT keycaps.
Make a 60% or 65% version of the keyboard.
Make the cable a USB-C type detachable cable.
Regarding the keycaps, as mentioned earlier, you can easily buy your own PBT keycaps and replace the ones that come with your keyboard. That said, it would be cool to see what SteelSeries could come up with. HyperX has done a good job with their double-shot PBT keycaps where the lower side of the keycap is white, letting the RGB light shine through.
Performance
The most important aspect of any mechanical gaming keyboard is, of course, the performance. Performance can be measured by how the keyboard performs in gaming, but we can also look at details like the response time to determine the performance. In competitive and pro gaming, every millisecond counts, and you want to minimize any bottleneck in your setup. Whether this is in your PC, monitor, or your gear and peripherals.
This all boils down to the mechanical switches. SteelSeries Apex Pro, as mentioned many times already, use their own switches called OmniPoint.
OmniPoint Switches
The OmniPoint switch is a linear switch, comparable to the MX Cherry Red or Speed Silver switch. However, it utilizes a completely new technology, where every switch has a built-in magnet that measures the key presses.  Using a magnetic field (also known as Hall effect), the OmniPoint switch measures the exact distance that a key is pressed. This allows you to adjust each key to the exact point at which you want to register. SteelSeries claims that this provides a 5 times faster actuation and 8 times faster response time, compared to traditional mechanical switches.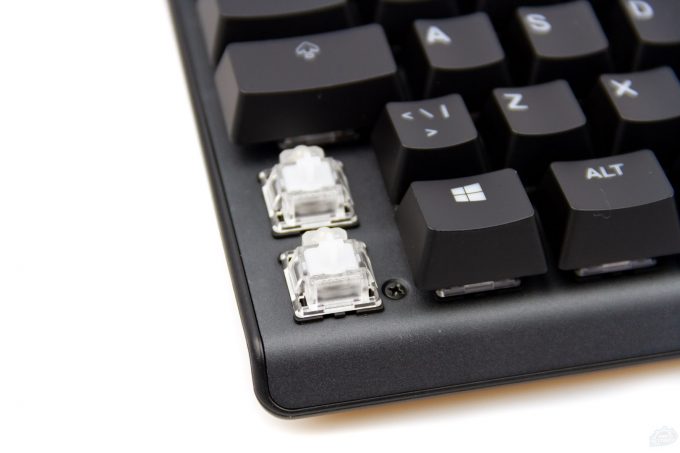 The switches have the same stem type as MX Cherry switches, and thus are compatible with the same keycaps.
Let us see how it compares to the popular MX Cherry Red switches.
Switch Specifications
Switch Type:
SteelSeries OmniPoint
Cherry MX Red
Peak Force:
? cN – Linear
45 cN – Linear
Switch Life:
100 million
100 million
Tactile feedback:
No
No
Audible feedback:
No
No
Travel Distance:
?
4mm
Actuation Distance:
0.4 – 3.6mm
2mm
Keycap stem:
MX (cross)
MX (cross)
Debounce Time:
0.7ms
5ms
Reset point:
Adjustable
1.9mm
The OmniPoint switches feel a lot like Red switches, being a linear switch with no tactile feedback. The difference is in the response time and actuation distance, where the OmniPoint has a much faster response time and adjustable actuation point. Whether you are going to notice the difference in response time is hard to say. Using the keyboard in various games, the switches feel very smooth and lighter than MX Red, so they probably have a lower operating force.
Adjusting the actuation distance to the lowest setting (0.4mm) and the keyboard almost becomes touch-sensitive, where the slightest touch will trigger the keypress. Testing the keyboard, I mostly used the middle settings (5), which should correspond to an actuation distance of 1.6mm. At the lowest settings of 0.4mm, the keys just register too fast, but you could probably get used to it over time.
Overall, the OmniPoint switches are the best switches for gaming that we have tested. 
For typing, the experience is different. Since I like to have tactile feedback when typing, this is not the best switches for this particular task. However, this is not a keyboard meant for typing and in my opinion, you will not get a keyboard that is both the best for gaming and typing. Everything comes down to personal preference, so this is just my opinion, but I think many will agree with this. This is the same reason I prefer different layouts, for my gaming keyboard I want a small compact keyboard, whereas, for everyday tasks like typing and Excel, I want a full-sized keyboard with a Numpad.
Final Verdict
SteelSeries brings new innovation to the table with its latest flagship model, Apex Pro. The main feature and biggest upgrade of the keyboard are the OmniPoint switches. With these switches, not only do you get the fastest mechanical keyboard switches in the world, but you also get the most customizable switches as the actuation point can be customized per individual key.
Besides this, the overall keyboard with its aluminum frame, great RGB lightning (also customizable per key), OLED screen, and great software, is a solid keyboard. While not 100% perfect (no keyboard is), Apex Pro is the obvious choice for competitive gamers.
Pros
Cons

OmniPoint Switches – fast response time and adjustable actuation
Great RGB illumination & per-key RGB
Aluminium top material
Per key actuation point setting
USB passthrough
Great software

ABS keycaps (can be replaced)
Non-detachable USB cable
No 60% or 65% layout version of the keyboard
Final recommendation: highly recommended for competitive gamers.
Check Price on Amazon
Gallery
All images are copyright © ProSettings.com – All rights reserved