Splitgate: Arena Warfare, is a new free to play, multiplayer first-person-shooter game.  The unique thing about this FPS game is the player's ability to create portals to quickly move through (much like the popular game "Portals" made by Valve).
Splitgate is a highly competitive game and requires a lot of aim and mechanical skills. It is sort of like Quake and Portals had a child. A very unique and challenging combination.
In this guide, we will look at the best settings for Splitgate: Arena Warfare, for increased performance, maximum FPS and better gameplay.
Splitgate Minimum System Requirements
First of all, it is important that your system live up to the minimum requirements, which are as follows.
Requires a 64-bit processor and operating system
OS: 64-bit Windows 7, Windows 8.1, Windows 10
Processor: Any dual core CPU
Memory: 6 GB RAM
Graphics: NVIDIA GeForce GTX 560 1GB
DirectX: Version 11
Network: Broadband Internet connection
Storage: 15 GB available space
Best In-Game Video Settings
Generally, if you are a competitive player and want to play at your best, you will want the maximum FPS out of your game. This is especially important in fast-paced first-person shooter games, where reaction times are important. Higher FPS = the faster you will see the enemy target on your screen (put simply). However, the FPS necessary is highly dependent on your monitor. For example, if you are using a 60 Hz monitor and getting 300 FPS, you will not get the full benefit of the 300 FPS. 60 Hz means that your monitor will update 60 times per second. FPS stands for frames per seconds, having your graphics card updating the frame 300 times every second, won't make your monitor update any faster. The last frames are therefore lost. In this case, your monitor is a bottleneck.
Ok, so you have a high refresh rate monitor and want to unlock its full potential. Therefore, you will want to optimize your in-game settings for maximum FPS. This will also have a positive impact on your gameplay, as described earlier.
Generally, this means that you should lower your settings until you reach a stable level of your desired FPS. What this means, is that if you have a 144 Hz monitor, you should be aiming to get at least 144 FPS consistently. This means that you should carefully watch your FPS counter, whenever you are in the action, to check whether your FPS drops or stay stable. If you have high FPS while standing still, but your FPS drops when it is most important, you should consider lowering your in-game video settings.
Settings to consider
These are the usual settings to consider when you want to improve FPS:
Resolution: lower resolution = higher FPS
GFX quality = lower = higher FPS
Shadows, render quality, etc. = lower = higher FPS
Other Splitgate settings to optimize
Besides the video settings to increase performance, there are other settings that might give you a competitive advantage.
An example of this is your FOV (Field of View). Having a higher FOV means that you can see a larger area on both sides, and by this being able to spot enemies than if you would play on a lower FOV. However, the optimal FOV is highly up to personal preference, but we recommend that you play around with these settings.
Optimal Settings
As previously mentioned, there are no optimal settings. The optimal settings depend on your personal preference, but also on the system you are playing on and your monitor.
That said, if you are on a high-end system and high refresh rate monitor, this is an example of some settings we found very good: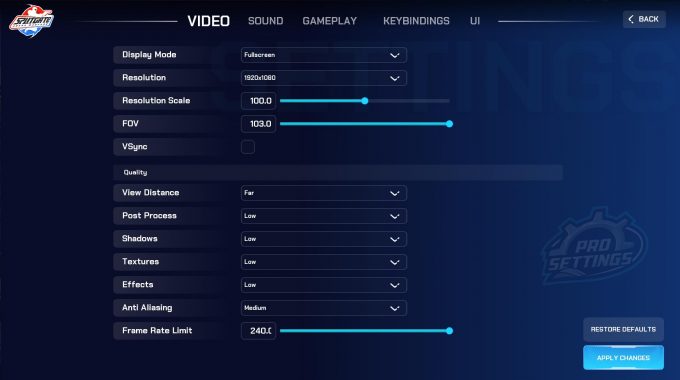 Things to notice:
We set the display mode to Fullscreen
We set the resolution to our monitors Native resolution
We kept the resolution scale to 100.
We set the FOV to a maximum of 103.
We lowered the quality in general – see below
View Distance to Far
Post Process to Low
Shadows to Low
Textures to Low (this might not affect performance that much)
Effects to Low
and Anti Aliasing to Medium
Set the Frame Rate Limit to the maximum of 240, since we are playing on a 240 Hz monitor.
With these settings, we were able to get some pretty consistent FPS at 239 throughout the game.
Best Mouse Settings
We are going to make this short. Splitgate is all about aim, the most common problem people have with FPS shooters that require aim is that their sensitivity is way too high.
Looking at professional CS:GO, Overwatch, Fortnite and Apex Legends players, you will see a common trend towards lower DPI and sensitivities.
In general, if you go for a DPI between 400 – 1200 you are safe. Your in-game sensitivity should also be lowered from the standard 10. We set it to 5 with a DPI of 800 and still found it a little bit on the high end. Our recommendation is therefore 800 DPI with 3-5 in-game sensitivity.
Pro Settings
We are currently compiling a list of the best settings from competitive and professional players. These are usually a good starting point when starting out in a new game, or just to find inspiration from the best players.
Check out our Splitgate Pro Settings List.
Final Note
The game has just been released, so we will come back and revisit this guide when we have done more testing on the optimal settings.
Be sure to bookmark the site, and check back in the future.
If you have any questions, then please leave a comment.