One of the most popular streamers and professional Fortnite players, Turner "Tfue" Tenney, has filed a lawsuit against his own team, the famous esports organization FaZe Clan.
Tfue is suing FaZe clan over an oppressive contract and argues that the organization is taken a significant portion of revenue from brand deals and furthermore is preventing Tfue from pursuing his own brand deals.
FaZe clan posted the following statement to Twitter following the news of the lawsuit: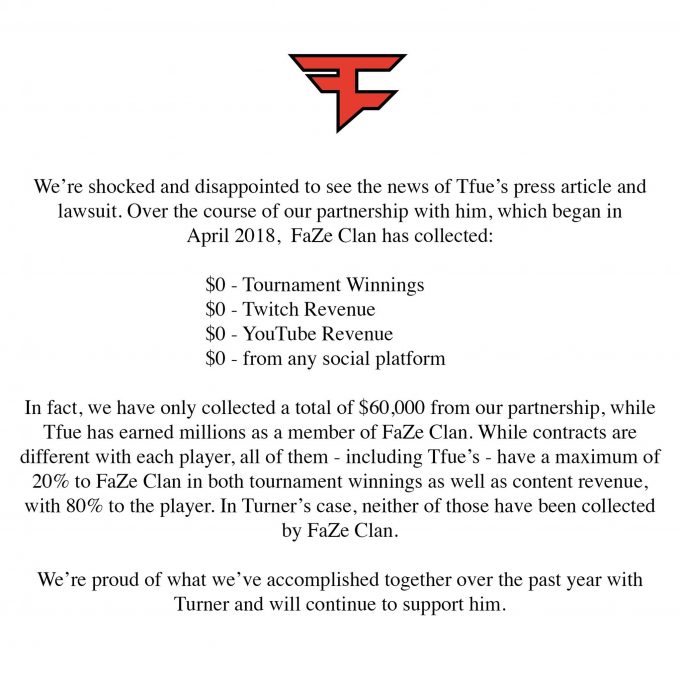 One of the founders of FaZe clan, Ricky Banks, was also quick to write about the lawsuit on Twitter.
In several independent tweets, he states:
Yo this whole thing with @TTfue is pretty unbelievable. The first thing I'd like to say is we do NOT and have never taken 80% of anyones prize money. Not sure where that came from, but a contract like that has NEVER existed. We've collected $0 from Turners prize money. ZERO.

I'm pretty bummed out man. Like fuck all the business stuff, the money stuff.. like this is gunna fuck with me personally for a really long time. I met @TTfue when he was getting 100 viewers on Twitch. I attached myself and fully committed to helping him succeed, and it worked.

And to have all this dropped on my head, without any warning. It blows my mind. I still don't fully believe Turner knows understands what these claims are. I believe his team put this in front of him and encouraged him to follow through. I'm heartbroken homies.

Like I got Code Tfue tattooed on my body. Imagine how fucking stupid I feel right now.

Honestly, fuck being professional. This is so beyond numbers and contracts. Homie I called you my family @TTfue and not only did I get blindsided but you can't return a call? I'm fucking crushed dog.

To stoop as low as he did, or his team.. whoever's responsible for this. It's disgusting. Lies on lies on lies. I'm sorry for being "unprofessional" but I'm fucking hurting right now.

At the end of the day this is all about money. More and more and more money. Clearly Tfue felt he deserved millions of dollars in salary in the addition to all the millions he earns on his platforms. He was unhappy and this was his attempt at getting out of the contract.

I'm getting off Twitter for a minute. I've said all I need to say. As crazy as it might sound I still fucking love you dude @TTfue and I wish you nothing but the best. A phone call would be appreciated.

OK LAST TWEET – To clarify Turners contract does outline splits in prizes, ad revenue, stuff like that. But again we've collected absolutely none of it with no plans to and that was very clear to him. We have collected a total of $60,000 from 300k in brand deals (20%). That's it

Sorry I'm done, I just had to tweet the actual numbers. Tfue makes millions and millions monthly and we have earned $60k from our relationship with him IN TOTAL. It's the most important part I need to be clear about.
While both FaZe Clan and Ricky Banks state that the organization has never taken any prize money from Tfue, it fails to mention how they go about brand deals.
Tyler "Ninja" Blevins, another popular Fortnite streamer, is known for having several large brand deals, including Uber Eats, Red Bull and Samsung, netting him millions of dollars.
It is possible that it is brand deals like this FaZe clan is preventing Tfue from pursuing, and instead, they are forcing him into brand deals of their choice where they receive 80% of revenue.
Another claim laid out in the lawsuit is that FaZe clan is pressured him into drinking alcohol and gambling, even though he was still a minor at the time (below the age of 21).
Read the full lawsuit of Turner "Tfue" Tenney against FaZe Clan here:
Tfue has since removed all mentions of FaZe clan from all of his social media accounts.
Updated 20.5.2019 with Tweets from FaZe Banks.