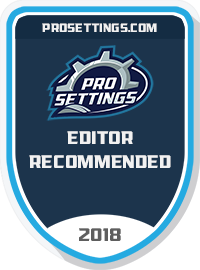 SteelSeries Rival 600
The SteelSeries Rival 600 is a lightweight gaming mouse with an exceptional good mouse sensor. The mouse is perfect for fast-paced shooters where accuracy is important.
Due to its performance and quality, the SteelSeries Rival 600 has been given our "Editor Recommendation". It is one of the best gaming mice we have ever tested, which says a lot since we have tried a lot of different mice throughout the last 20 years.
Check Price on Amazon
Specifications
Tech Specs

Sensor System: SteelSeries TrueMove3+ Dual Sensor System
Primary Sensor: TrueMove 3 Optical (extremely good)
Secondary Sensor: Depth Sensing Linear
Sensor type: Optical
CPI: 100 – 12000 (100 CPI increments)
Polling rate: 125 – 1000 Hz (125, 250, 500, 1000)
IPS (inches per second): 350
Connection: Wired
Hardware acceleration: none
Lift off distance: 0.5 – 2 mm (customizable)

Design

Hand orientation: Right-handed
Grip style: Palm, Claw
Size: Large
Weight: 96 g / 3.3 oz (128 g / 4.5 oz with extra weights)
Number of buttons: 7
Switch Type: SteelSeries Mechanical Switch (rated for 60 million clicks)
Length: 131 mm / 5.2 in
Width: 69 mm / 2.7 in
Height: 43 mm / 1.7 in
Cable Type: Soft Rubber (detachable)
Cable Lenght: 2 m / 6.5 ft
| | |
| --- | --- |
| | |
| The Rival 600 comes in a package including a manual, cable and weight system. The cable connects to the mouse via micro USB. | With the weight system, it is possible to add up to 32 grams extra to the mouse. The sides are easily detachable and are held together by magnets. It is possible to use the mouse without the sides for an even lighter experience, but you will also not be able to use side buttons. |
Design
The SteelSeries Rival 600 is a relatively large mouse, but nonetheless very comfortable. The buttons, back and side grips are rubberized which gives a good grip. The only downside we noticed with the shape was the right side. If you tend to lift the mouse, the curved shape on the right will not provide any grip or resistance which makes it a little bit difficult to lift it up. There are three thumb buttons, which is nice for games that require more keybindings, for example, we found it useful in Fortnite. The buttons and mouse wheel are easy to click and feels durable. Furthermore, the mouse wheel has a pattern which makes it slightly easier to scroll and the scroll steps feel noticeable. The DPI button is on the top of the mouse, but we did not have any problems with wrongly clicking it, nor any other buttons. With a weight of 96 grams, it is at the lighter end of the spectrum. While some people like heavier mice, for us the lighter the better, so it is definitely a plus here.
Performance
The Rival 600 features a dual sensor system. The primary sensor is the SteelSeries TrueMove3+, an extremely accurate sensor which is at least as good as the Pixart 3360 sensor, known from many top-tier gaming mice. The second sensor is solely used to for the lift-off distance and is a nice additional feature for people who like to get really geeky. For us, however, we did not really use it.
We tested the mouse in CS:GO, Quake, Overwatch, PUBG, and Fortnite and didn't occur any problems in any of the games. The mouse performed very well in all of them. There was no acceleration, no angle snapping and we could not make the mouse spin out in fast 180 turns. The tracking was really accurate, smooth and just felt very responsive.
Software and customizations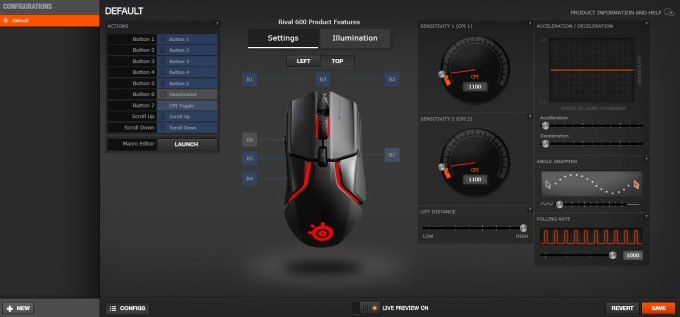 SteelSeries has done a pretty good job with their software. From there you can customize all your SteelSeries peripherals. It is possible to customize all buttons including the scroll wheel. The mice can have up to two different CPI configurations which you can switch between with the DPI button. There is also a macro editor which makes it possible to create custom macros that can be assigned to the buttons. The Rival 600 has a very good RBG system, so it is of course also possible to configure the illumination of the mouse, and there are various effects to choose from. Besides this, the lift-off distance can be adjusted as well as the polling rate, acceleration, deceleration, and even angle snapping. There is no angle snapping, which is usually what you want as a gamer, but if you would ever want it, it is possible to adjust the amount of angle snapping from the software package.
Recommended settings
If you want to maximize the accuracy of your mouse we have made a list of recommended settings for the SteelSeries Rival 600 mouse:
Acceleration: 0
Declaration: 0
Angle snapping: none (far left)
Polling rate: 1000 Hz (1 ms)
Final Verdict
Overall the Rival 600 is a really comfortable, lightweight and accurate mouse which provides a good grip. It features a lot of customizations and is perfect for fast-paced shooter games. For people who like RBG, the illumination in the mouse is really good and can also be customized from the software. Due to its relatively large size, we would recommend it to people with medium to large hands.
Check Price on Amazon
Gallery
All images copyright © ProSettings.com