CORSAIR STRAFE MK.2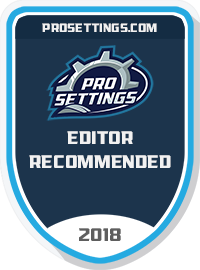 The Corsair Strafe Mk.2 is the 2018 revamp of the Corsair Strafe keyboard which was released several years ago. It is a relatively large keyboard with RGB lighting, media controls, and USB passthrough. The keyboard features MX Cherry Red or Silent switches, which is a popular choice for gamers. We tested it in several FPS games where it performed very well and without ghosting. Overall a very good keyboard for fast-paced games like CS:GO and Overwatch.
Due to its performance and features, the CORSAIR STRAFE MK.2 has received the Editor Recommendation from ProSettings.com
Check Price on Amazon
Specifications
Tech Specs

Keyboard type: Mechanical
Switches: Cherry MX Red or Silent
Report rate: 1000 Hz (1 ms)
Key rollover: Full key rollover (NKRO)
Anti-ghosting: Yes
Keys: 105
Backlighting: RBG
Onboard memory: Yes, 8Mb

Design

Weight: 1.46 kg / 3.22 lbs
Width: 168 mm / 6.61 in
Length: 447 mm / 17.6 in
Height: 40 mm /  1.57 in
Body material: Plastic
Connection: Wired (USB 2.0 Type-A)
Extras: Palm rest, FPS & MOBA keycap sets
Design
The first thing we noticed when we opened the package was a very solid braided USB cable, which feels very durable. The keyboard itself has a plastic body with an aluminum finish. We would have preferred a real aluminum body, but nonetheless, it feels robust and can certainly take some beating. Size wise it is rather big, which is something you might take into considerations when you select a keyboard. Including the palm rest, it takes up a lot of the desk space, leaving less room for your mouse. However, it is purely personal preference and if you have a large desk it is not a problem. Switches can easily be changed, and it comes with a set of FPS and MOBA keycaps. Besides normal keys, it has some media keys and a scroll wheel.
If you are into RGB lightning you will not be disappointed. All keys are lit up by RGB illumination which can be controlled from the CUE software.
Performance
The performance belongs in the high end of the spectrum. The keyboard is made for serious gamers where speed and accuracy are important. The keyboard comes with either Cherry MX Red or Silent switches. We tested it with the Cherry MX Red switches, which are some of the best for gaming in our opinion. The Red switches are linear, which means there is no click or tactile feedback. The spring force is minimal and the switches have a low operating force of 45 cN.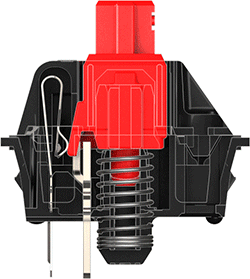 Cherry MX Red Technical Data
Linear switching characteristics
45 cN operating force
2.0 mm pre travel
4.0 mm total travel
No audible click
The MX Red switches are rather silent compared to MX Brown or MX Blue because of the linear design. If you want really silent switches, you should opt in for the MX Silent switches instead. We have tested MX Silent switches before, and feel like it comes with a tradeoff on performance since they do not feel as smooth. It is a tiny difference and some might now even be able to feel it. Again the choice of switches comes up to personal preference.
We tested the keyboard in several games including CS:GO, Overwatch, Fortnite, PUBG, and Quake. It performed well in all games and we did not have any problems with ghosting.
Software and Customizations
As briefly mentioned earlier, the keyboard and illumination can be customized from the CUE software.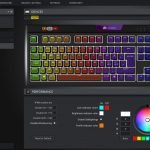 From the software, you can set up key macros, lightning effects and tweak performance settings. We found it pretty intuitive to use the macro editor and lightning effect editor. For everyday FPS gaming, the macros do not seem that useful, but for productivity tasks, it can come in handy in the long run.
Lightning effects can be customized in a bunch of different ways and also comes with some predefined effects like the rainbow effect. Besides the customizations, you can store different profiles on the keyboard which contains your macros and settings. Especially useful if more people are using the keyboard or if you use it for different tasks.
Final Verdict
The CORSAIR STRAFE MK.2 is a solid keyboard with RGB illumination and many customizations available through the software. Design wise it is a relatively big keyboard that feels very durable. If features the Cherry MX Red or Silent switches, which are some of the best you can get when it comes to gaming. We tested it in several games where it performed well and without ghosting.
Check Price on Amazon
Gallery
All images copyright © ProSettings.com