CORSAIR HARPOON RGB Wireless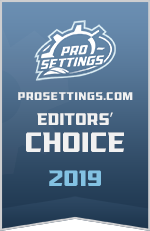 The CORSAIR HARPOON Wireless is a medium sized gaming mouse with a simple design and relatively low weight at just 99 grams. The latency of the wireless technology is ultra low and you cannot feel any difference compared to a wired mouse. The mouse boasts a PMW3325 mouse sensor delivering great performance suitable for fast-paced FPS games.
Due to performance and quality meeting or at some point even exceeding our expectations, the CORSAIR HARPOON Wireless mouse has received the Editor' Choice reward from ProSettings.com.
Check Price on Amazon
Specifications
Tech Specs

Sensor: Pixart PMW 3325
Sensor type: Optical
CPI/DPI: up to 10,000
Polling rate / USB report rate: 1000 Hz
Connection: Wireless or Wired

Wireless: Sub-1ms 2.4GHz CORSAIR Slipstream wireless or Bluetooth 4.2 + LE
Wired: USB 2.0 Type-A

Battery life:

2.4GHz: Up to 30 hours with lightning and 45 hours without lightning
Bluetooth: Up to 30 hours with lightning and 60 hours without lightning

Charging: via USB cable (can be used while charging)
Hardware acceleration: none
Software: Yes – CORSAIR CUE

Design

Hand Orientation: Right-handed
Grip style: Palm, claw, fingerip
Size:  Medium
Weight: 99 g / 3.52 oz
Length: 115.5 mm / 4.55 in
Width: 68.3 mm / 2.69 in
Height: 40.4 mm / 1.59 in
Cable type: Braided fiber
Cable length: 1.8 m / 6 ft.
Mouse Feet: PTFE
Number of buttons: 6
Switch type: Omron switches (rated for 50 million clicks)
| | |
| --- | --- |
| | |
| The CORSAIR HARPOON RGB Wireless Mouse comes in a box including the mouse, a USB cable for connectivity or charging and a manual. | Underneath the mouse, you will find a small room where you can store the Slipstream wireless USB receiver when you don't use it or are traveling with the mouse. There is also a switch to choose between 2.4GHz wireless, bluetooth or powering off the mouse. |
Design
What first strikes us about the mouse, is that it looks very simple. A no-nonsense mouse with a little RGB lightning in the logo that can be configured via the software, but besides this, not a lot of distracting features. The mouse has 6 buttons and Omron switches rated for around 50 million clicks. Omron is known for making high-quality durable switches and is used in many popular gaming mice today. All buttons can be programmed via the CUE software, for example with custom macros.
Size
The mouse is medium in size. It will fit people with small to medium hands very well, but people with very large hands will probably find it a little small if they are used to palm grip. Below you can see a comparison between the HARPOON and several other popular gaming mice we have tested. The HARPOON Wireless is the second mouse from the left.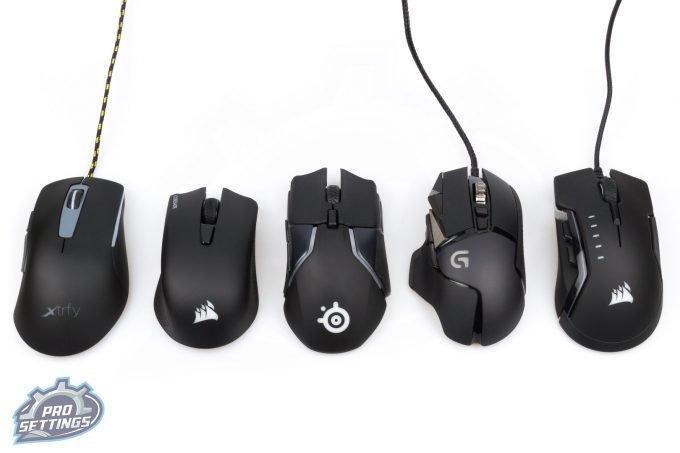 As can be seen, the HARPOON is slightly smaller.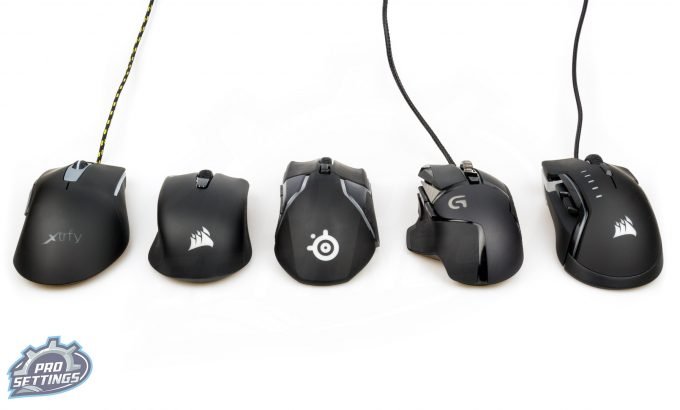 Shape, weight and grip style
The shape is contoured with rubber on the side-grips which makes it easy to hold. The contour also makes the mouse easy to lift since it can rest on your thumb when you lift it. The mouse wheel is very smooth and scrolls easily and was very satisfying to use and definitely top tier compared to other gaming mice.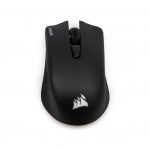 The mouse will suit almost any grip style depending on your hand size. If you have larger hands, claw or fingertip grip is probably required, while if you have small or average hands palm grip is also a possibility.
The weight of the mouse is 99 grams or 3.52 ounces which puts it in the lighter category of gaming mice. A trend we have seen becoming more popular through 2018 until now is that people start to demand lighter mice. In general, we prefer mice that weights less than 100 grams, so this is very welcoming.
Overall, we liked the shape and feel of the mouse and the size was good as well. The perfect size doesn't exist, it is very much up to personal preference, but we think it will suit most people in general. If you come from a very different shape or size it will, of course, require a little time to get familiar with the mouse. However, this is almost always the case when switching mouse.
Performance
Performance is one of the key components of every gaming mouse. Without proper performance, your will not gain that little extra advantage against your online opponents. It is therefore obvious that the mouse sensor is one of the most important things to look for in a gaming mouse. It is the sensor that determines how precise your aim will be. This is of course most important in FPS games, where aiming is a big part of the game play.
Hardcore gamers have for years sworn to wired mice when it comes to gaming. It is all about getting as little latency as possible, and previously wireless technology could not deliver the same low latency experience as a wired mouse. It is therefore interesting to see how a wireless gaming mouse will hold up against the competition. CORSAIR boasts that their "Slipstream Wireless Technology" is hyper-fast with sub 1 ms response time.
The mouse was tested over a long period via the 2.4GHz wireless connectivity and then with the USB cable attached. It felt exactly the same, we couldn't feel any latency at all so it seems like wireless technology in the gaming field is really improving. We did not test the mouse via Bluetooth but would expect that it would perform a little worse than 2.4GHz if you really went into details. Using the mouse via 2.4GHz connectivity is however really simple. You just plug in a tiny USB stick to your PC and you are ready to go, no installation or anything else required.
Now that we know the wireless technology works, it is interesting to see how the sensor performs. The HARPOON Wireless uses the Pixart PMW 3325 optical sensor. Almost all big gaming brands use Pixart as a supplier for their mouse sensors since they are known for high-quality flawless mouse sensors. The PMW3325 is a really good mouse sensor with excellent tracking capabilities at 100 IPS tracking speeds. While PMW3325 is not the best sensor available (PMW3360 is slightly better for example), it is indeed a very solid mouse sensor when it comes to gaming performance. The mouse feels smooth and accurate, we did not experience any angle snapping nor acceleration and we couldn't make it spin out.
We tested the mouse in several games including CS:GO, Fortnite, Quake, Overwatch, Rainbow 6 and PUBG. All games that require that your aim is on point. As former Global Elite CS:GO players with more than 20 years of experience playing Counter-Strike, we couldn't find any issues while playing with the mouse.
Final Verdict
The CORSAIR HARPOON positively surprises with a latency-free wireless mouse experience. The design of the mouse is very simple but without compromises to the gaming experience. Buttons are responsive and feel durable, the mouse wheel is top tier and the overall feel of the mouse is just great. The weight of the mouse is kept low at 99 grams. Performance wise the mouse performs well with a PMW 3325 mouse sensor, no acceleration, angle snapping or spinouts. If we are forced to come up with any possible improvements it would be a slightly better mouse sensor and making the mouse even lighter. However, as it is right now, it is a damn good mouse for gaming. Maybe 2019 will be the year where hardcore gamers truly embrace wireless gaming.
Check Price on Amazon
Gallery
All images copyright © ProSettings.com